In this modern age, business and skills break boundaries. Now in this globalized business age, you can serve people outside your state and get handsome money by cashing your experience and expertise.
For that purpose, an online platform developed by an American financial company founded in 2005 named "Payoneer" has been launched to serve people around the globe by making online transactions to their personal accounts without going anywhere. Today, we will discuss how you utilize this platform.
Payoneer: The First Step Towards Global Payment Solutions
Payoneer is an online money transfer and payment platform. Different countries and currencies have adopted this platform to connect professionals and businesses. It is an American-based company providing services worldwide to grow business, cash opportunities, and professional' skills. All the transaction made through this platform is secure and safe.
Terms and Requirements for Creating an Account: Keep in Mind!
There are some basic rules and requirements that you must have to fulfill to create an account on Payoneer.
To create an account, Payoneer, you must be just over 18. It's an age-restricted platform because you must have a verified CNIC number to create an account.
Must have verified CNIC for authentication and verification.
You must have a running email address to verify yourself through the mail.
The current and activated contact number helps to get the code by SMS.
For withdrawing money, you must have a valid bank or other e-wallet account number for transferring money.
How to Create an Account on Payoneer? Follow the Easy Method!
Creating an account is a simple and easy method. This section will tell you how you can easily create an account on this platform to enhance your eCommerce business.
Payoneer is considered one of the largest and most well-known online payment platforms in different countries. But you must have a verified account to avail of this platform's services.  Follow the below steps to create an account.
Visit the official page of the Payoneer website "www.Payoneer.com." After visiting the official page, you will see the "register" tab. Click on that tab.

Now, you will see two different categories: "individual, and company." These are two forms of account that you can create on this platform. An individual is for your own like.
If you are a freelancer on some particular platform like Fiverr, Upwork, etc., then you can choose an individual, but if you are running a business or company, then you can choose a company.

If you choose individual account type, then after that, you have to share your complete information that includes your name, email id, contact info, DOB and postal address, etc. You must verify the account with your valid mobile number.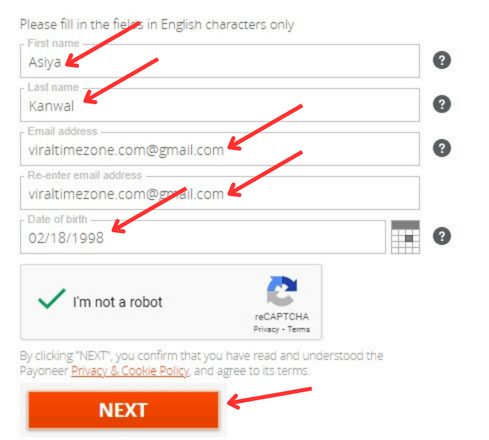 After providing all your personal information, you can add your bank account details. Then, follow the next steps.
If you are choosing a company account, you have to provide all company and business information in the fields like company owner and registration details, etc.
Now you have successfully created an account, and if you are facing any issues, contact Payoneer Representatives!
How to Verify Payoneer Account in Pakistan? Most Common Question!
If you have created the Payoneer account with the help of the above details, then you must verify it. Then, here we will tell you the complete procedure to verify your account. If you do not confirm your account, your payment will be stuck, and you will face withdrawal problems. Follow these steps to verify your account.
Visit the login page of Payoneer and provide your login details.
After logging in to your account, most of the time, the notification will be shown on the screen for verification, but if you do not get the notification, go to settings.
In the setting, click on the verification center.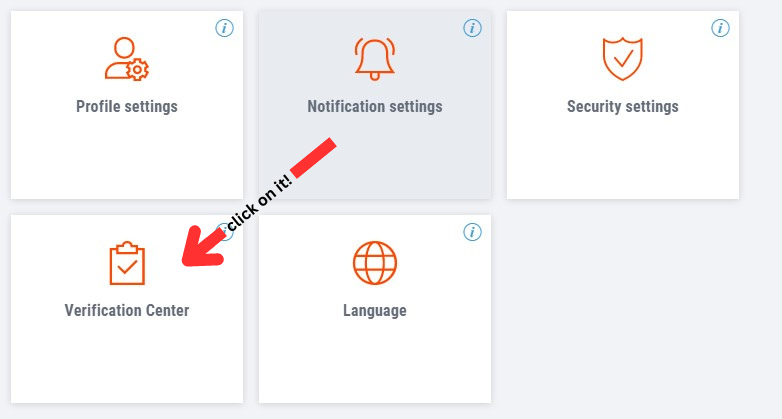 Now, you will have to provide the government-issued card picture of the person whose name you mentioned while creating the account.
In the next window, the complete detail will be shown to you right there choose the national identity card option.
Now, you will be asked to provide the front and back sides of the picture of your ID card. The format and size will also be mentioned.
After uploading both sides of the picture, click on the submit button.
The verification process is time-consuming. It will take some days; you must wait for it and continuously check your verification status.
Apart from your ID card, you will also be asked for face verification, where you have to post your picture, address confirmation, and email verification.
FAQs:
Can I receive money without verification?
Yes, you can receive money in your Payoneer account, but you were not able to withdraw this money.
Can I link my Payoneer to my mobile account?
Yes, you can receive money in your Payoneer account, but you were not able to withdraw this money.
Can I link my Payoneer to my mobile account?
Yes, you can easily link your Payoneer account to your JazzCash account to receive and withdraw money. You can also add your local bank account it will take 2 to 3 days to receive money in your account. The following bank allows transactions from Payoneer in Pakistan (Habib bank, Citibank, Alfalah Bank, MCB, Samba, Faysal Bank, and Standard Chartered Bank).
Final Thoughts
This method will be 100% work with creating a legal Payoneer account in Pakistan. I recently created an account and used it for receiving and sending international payments. I hope this guide will fulfill your Payoneer account-creating query. If you have any questions, you can contact us through mail or comment box. Thanks for reading!