For gaming-passionate people, dell launched a gaming desktop that has incredible gaming performance among other pc and soon gets popularity which is "Alienware Aurora 2019". it offers the best gaming experience and performance in the gaming world.
Quick Review:
Intel core i9 processor
16 GB RAM
4.7 GHz CPU speed
NVIDIA Dedicated graphic
512 to 1 TB built-in hard desk (extendable)
Window 10 operating system support
Octa processor
Futuristic design
Specification of Alienware Aurora 2019: Comprehensive Guide!
Alienware model 2019 is a beast machine for gaming purposes, no one can this PC. want to more specifications, follow the below:
Processor info:
Alienware has an intel core i9 processor that is considered one of the most powerful processors among gaming pcs. it has the capability to run all the games smoothly. processor power and massive storage made this pc to run the most demanding games fluently.
Storage details:
This pc comes up with massive storage that helps you to store your favorite games for the long term. It has 16GB RAM and a 1TB hard drive that is far enough to store heavy games. The internal storage is upgradable you can also upgrade the hard drive up to 2TB easily to enhance the storage capacity.
Perfect NVIDIA GeForce RTX:
NVIDIA GeForce is a powerful and capable graphic processor in the gaming field. This pc has Nvidia graphic card 2070. It is the most capable card that can handle every game smoothly you will never regret buying this pc. It is also compatible you can easily connect any gaming device with it.
Thermal Technology:
One of the most imperative features of this pc is its thermal control technology. For gaming computer temperature control mechanism is essential because playing demanding games rise the computing machine temperature therefore proper heat sink technology is important. Aurora chassis has vent and air channels to maximize airflow and keep the device cool. Read more about Alienware Aurora R11 Gaming Desktop!
Features of Alienware 2019:
Perfect Design:
The sleek attractive design made it more favorable for work and gaming experience. No doubt it has the best gaming performance but its design made it more attractive.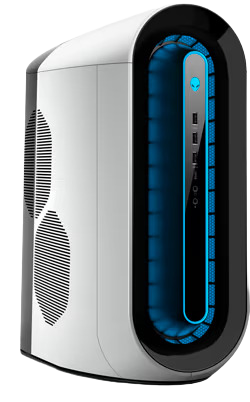 Cooling System:
This pc has one of the most convenient airflow systems that makes it healthy and sustainable even during the playing of the most demanding games.
Excellent Performance:
Although this pc launched a couple of years ago still it is considered one of the most demanding pc in the gaming world it is because of its performance. It has a powerful graphics card along with intel 9th generation processor and storage massive capacity that makes its performance fantastic.
Multiple Ports:
Ports are very important for gaming because it is used to connect other gaming devices to the machine. It is one of the considerable features that you must have to consider before buying a new device. It has two USB ports SD card, an ethernet, and type A and C ports.
Pros and cons:
Pros:
The sleek modern design made it more attractive and it looks great.
High gaming performance for most heavy-end and demanding games.
Plenty of storage is available to store heavy games for longer.
High-resolution display that made screen appearance realistic and sharp.
Easily upgradable storage capacity that can be upgraded to up to 2 TB internal storage.
Ideal cooling technology to control the temperature of the device.
Cons:
The price is high that is not possible for everyone to buy.
High fan sound that is quite disturbing.
Negative customer review about plastic chassis.
The size is quite large which might be problematic for some users.
Should I buy Alienware in 2023?
Overall Alienware 2019 has a fantastic gaming pc and good reviews among customers. That is because it has a huge storage capacity, good processor speed, the best graphic processor, and better cooling technology.
All of these features are necessary for a gaming machine but their cost is slightly high. However, it can run all types of games including the most demanding games.
You can also consider Alienware Aurora's latest model which has advanced processor speed. Purchasing a device depends on your requirements. But as for gaming performance perspective, this pc will never disappoint you.
Is Alienware good for gaming?
Alienware Aurora 2019 was launched in 2019. This is the power pack for gamers. It has a powerful graphic card and octa-core intel 9th generation processor all these specs made it a favorite in the gaming world.
The reason behind this product's popularity is totally dedicated to its performance it is a powerful desktop made for heavy and popular games to play on it reliably and comfortably with faster speed. the NVIDIA GeForce RTX made it perfect for serious users.
Where can I buy Alienware Aurora 2019?
Well, one of the downsides of the gaming pc is its price. It has a high price and is unavailable in the cheap price range. If you are interested in purchasing this gaming edition then you can easily shop it from a famous online platform like Amazon and Daraz.
However, if you are not comfortable with online purchasing then you can shop it from the market but make sure of availability first.
Key Points to Choose Gaming Pc?
If you are thinking about buying a gaming pc then you must have to know what features and factors you should consider before purchasing pc.
The first and the most important part of any gaming device is the graphics card you must have to know about which graphics card and what is the capacity of that card what kind of games it can support. The more powerful and efficient the graphics card more your pc will have good performance.
CPU processor is the second most important factor that affects gaming performance. The processor is responsible for speed. if the processor has a good clock speed the task execution and gaming will be fast so you must have to know how much speed and which company processor is best for gaming.
If you are a fan of heavy-end games then you must consider the cooling technology before buying a gaming machine. The importance of this feature is important because heavy games use lots of power and the machine will heat up to make sure the device you are purchasing has proper heatsink built-in technology. This technology cools down gaming machines.
As we discuss earlier heavy games consume more power so they will need battery power more. Make sure the device you have purchased has good battery performance because if it has low power then you will face power issues while playing games.
Today most computer has more than one USB port. This peripheral port is also an essential part of a gaming pc. If pc has more USB ports, you will be able to attach plenty of gaming devices.
Top Gaming Competitor of Alienware Aurora 2019
Here mentioned the list of some close machines related to Alienware Aurora 2019:
MSI infinite RS 13th:
MSI infinite is a powerhouse pc for gaming and is top on the list if we talk about competitors of alien Aurora. It comes up with intel core i9 13900KF processor with RTX 4090 built-in liquid cooling technology.
The most special feature of this device is it has eliminated the fan noise usually gaming pc have cooling fan noise that is quite disturbing but this pc has removed this hurdle.
It's a quiet device and considers one of the best pc among gaming computers. The drawback of purchasing this pc is its size it has large size so you need more space for it.
Alienware Aurora R15:
It's a new model of alien awareness in the gaming field. It has advanced cooling technology named 240 mm AIO cooling. It has powerful performance in gaming than alien aware Aurora 2019.
It has an intel core i9-13900 processor along with NVIDIA GeForce 4090 graphic card and internal storage up to 1 TB and 64 GB ram. The pros of buying this pc are it has lots of USB ports on the front side.
iBuypower Revolt 3 i7BG:
if you want a reasonable price gaming desktop then ibuypower is the best choice for you it has 4GB RAM with an intel core i7 11700kF processor and NVIDIA RTX 3080 fast gaming graphic processor. Apart from that it has a 1TB internal storage capacity to store games.
The buyer rating is also positive and mostly all the customers are satisfied with this company device. It has more than 3 ratings among gaming customers so it is definitely a good choice for gamers.
corsair one i300:
it is considered one of the best gaming pc with an intel core i9 processor speed of 3.2 GHz along with an RTX 3080 graphic card. It is the most compact pc ever in the gaming pc category it needs not have so much space to use. It has a liquid cooling system and provides a 2-year warranty that is quite expressive.
HP Omen 30L:
It is one of the most powerful and quiet. It can run all games beautifully. It has powerful hardware and cooling technology. Hp omen has a striking design although it is expensive the component is able to handle all games professionally. It has intel 10th generation intel core i9-10900k processor with ram 64 GB with NVIDIA RTX 3090.
FAQ: Quick & Short Answers
Is Alienware is upgradable pc?
Yes, it is you can upgrade this pc internal storage up to 1TB for enhancing storage capacity to store more games.
Which is the most powerful Alienware?
Alienware m17 R5 is one of the most powerful gaming pc in the Alien series. After Alien launched now has many models.
Does the Alienware Aurora 2019 support high-end gaming?
Yes, no doubt it's specifically designed for gaming purposes. so, support all kinds of high-end games easily. Its powerful components and advanced cooling systems provide an immersive gaming experience.
Final Verdict:
Alienware Aurora 2019 is a versatile gaming pc launched in 2019 by Dell company. This pc has remarkable performance in normal to heavy-end games. It has also a good performance rate in other routine tasks. It's multitasking pc. The price is slightly higher. Thanks for visiting.