Wants to make online transactions to local and international banks from the same platform from your home in 2023? Today we will tell you about a secure and legit digital platform that you can use for making transactions in Pakistan named "Skrill". This article will guide you on how you can create and verify a Skrill account.
What is Skrill used for? Overview!
Skrill is a digital online wallet account that is quite different from local bank account. It supports instant withdrawal and sending money to your friends and family member. It is one of the secure platforms like PayPal and recognized globally that is serving many people.
However, PayPal is a broad platform than Skrill. You can also withdraw and send money to your local bank account through Skrill.
Is Skrill Regulated in Pakistan? To the Point Answer!
Skrill is working in many countries. However, it is banned in many countries too. But this platform is available in Pakistan and Pakistani citizens can use it and avail of its services and also can make transactions and payments through it.
However, you cannot use it in Pakistani currencies because it does not support Pakistan currency whenever you deposit or send money. You have to choose global currency that is available on website. This is a safe and secure platform used by millions of people across the globe.
How to Create Skrill Account in Pakistan? Comprehensive Guide!
You can easily create Skrill account in Pakistan by providing few details about yourself and then you can avail of Skrill services. follow these steps to create an account on Skrill.
First of all, visit the official website "skrill.com" from your browser and you can also download the app from Google play store free of cost. On the website home page you will see the register tab on the top right or click on sign up.

After that detail window will open with required field "name detail, country, currency" (choose of one of the world available currency does not support the Pakistani rupee), email, and password.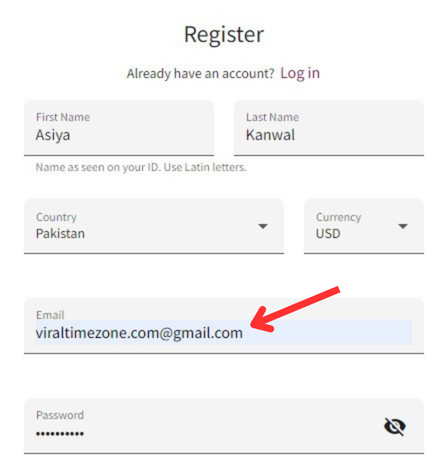 After providing all valid detail and filling in all required fields tab on "register". Now you will get a verification email on provided email address.
Verified email within 30 minutes otherwise link will be expired. Now your account will be created to enjoy the unlimited services of a Skrill wallet account.
How to Verify Skrill Account? Follow the Essential Steps!
After completing above procedure when you login to your account. There will be two options available on the homepage choose one of them and provide your personal detail like address, postal code, city and active mobile number to verify the code.
After that, you will able to see verification option when you click on your id.
The verification process is 3 step process it will take 24 to 48 hours for verification.
You need to upload front and back side picture of your scan id copy; selfie and your address verification documents.
Active your pop notification as when your account verified you will get notification from Skrill.
Is Skrill Age Restricted? Keep in Mind!
Yes, Skrill is a completely age-restricted platform you must be 18 years old and have an ID card. Because in process of verification, you have to upload your complete details including your CNIC, pictures, and address may be your utility bills. All the information will be safe and protected these details are required to secure your account.
How to Withdraw Money from Skrill Account? Actual Guide!
You can easily withdraw money from Skrill account to any other of your account. It supports all type of accounts like JazzCash wallet to local bank account. The transaction is much faster for a mobile wallet accounts than a bank account.
All you need is just valid and authentic detail of account that you want to transfer money to. Choose to withdraw option there provide the details of account then amount and confirm that transaction and you are done. It's an easy and speedy process to send money to your family and friends.
Most Repeated Questions
Does Skrill support international transactions?
Yes, you can easily make transaction with your debit and credit card. But on each transaction the charges will be apply in Pakistan on each deposit it will charge 2.50 % on transfer 2.99 % on international it will charge you 1% and 2.99 % respectively. Fee deduction is also depending upon the currency different currencies has different charges fee.
Is Skrill legal and secure?
Yes, Skrill is absolutely legal and secure platform it will take all required information to keep your account safe and secure.
Is there any cash limit in Skrill?
Yes, you can make only $50 per day and $20,000 per month according to our research amount may vary depending on currency.
Final Verdict
Skrill is broad platform that is digital money transaction wallet used to make transactions in local and international level. You can make transaction to any account within few seconds. It is most trusted platform through this article you will be able to create account with complete verification. Thanks for visiting.