The Internet has become a meaningful part of daily life no matter your profession, whether you are in a health department, student, educator, scientist, or something else. In short, the Internet is becoming necessary like other elements in life like food.
Many global companies are working to improve internet service and make accessing the information you want faster.
In Pakistan, many popular Internet 4G service networks are available. But the most used internet service is PTCL (Pakistan Telecommunication Company Limited).
PTCL has been an active service provider for many years. With internet service, the privacy and security of your network are also essential to bind the use of the internet and accessibility to your network.
The most common way to protect your network from unauthorized access is to create a password, and you have to update it time by time so that no one will be allowed to use your internet connection without your permission. This post will help you know how to update your password for PTCL Wi-Fi.
How to Change PTCL Wi-Fi Password? (Stepwise Guide)
You must follow a few steps to change your wifi password easily. All of these steps are mentioned below.
Step 1: Connect Internet
Connect your device to the internet service and go to your browser on your device. Ensure you have an internet connection, as it can be done online.
Step 2: Enter the IP Address
Now, enter the IP address that is the same for PTCL customers. There are two types of IP addresses available: 192.168.1.1 and 192.168.10.1. As you enter one of these IP addresses, the pop-up window will be displayed on the top search bar of the browser.
Step 3: Enter the Username and Password
Enter the username and password of your wifi. Usually, this username and password are available on the back of the wifi box, or you can type admin for username and password. If it doesn't work, then check your Wi-Fi box, type it, and click on the sign-in. Once you enter the official admin panel of PTCL WIFI, you must choose the "PC version," as mentioned in the image.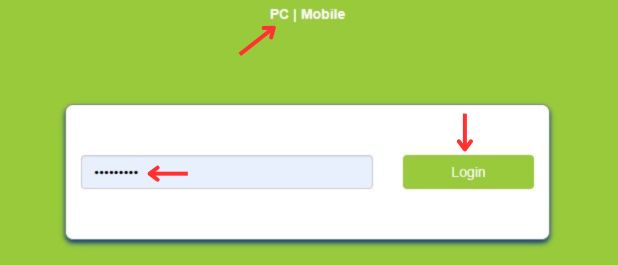 Step 4: Go into the Wireless Option
As you enter the details and press sign in you will be landed on the PTCL official different setting page. There will be different setting options available. Choose the "Wireless" or "WIFI settings" option there. You will see the different options as you click on wireless.
Step 5: Set the Password
Choose a security option among the available options. Different check options are available; enable them according to your need and then scroll down to the bottom of the page. You will see the WPA/WAPI bar. Enter your desired network name and password, then apply and save it.

Note: The same process will be applied for changing usernames as well. Try to choose a strong password.
How to Change PTCL Router WI-FI Password in 6 Steps?
Changing your PTCL (Pakistan Telecommunication Company Limited) router's Wi-Fi password involves the following steps:
Step 1: Access the Router's Interface
The first step is to access your router's web-based setup page.
Open your preferred web browser.
Type in the default IP address for the PTCL router, which is typically "192.168.10.1" or "192.168.1.1" in the address bar, and hit "Enter".
Step 2: Log in
You'll then be taken to a login page.
Enter your router's username and password. The default username and password for PTCL routers are usually "admin" for both fields unless you've previously changed them.
Step 3: Access the Wireless Settings
After logging in, you'll see the router's dashboard or interface.
Look for "Wireless" or "WLAN" in the main menu and click on it. This will take you to the wireless settings page.
Once on the wireless settings page, click "Security" or "Wireless Security".
Step 4: Change Wi-Fi Password
This is where you change your Wi-Fi password.
In the "Security" or "Wireless Security" settings, find the "WPA/WAPI passphrase" or "Wireless Password".
Delete the current password and enter your new password in the appropriate field.
Create a strong password that includes letters, numbers, and special characters.
Step 5: Save Changes
After changing the password, don't forget to save the changes.
Click on the "Apply," "Save," or "OK" button to save the changes. The exact wording might vary depending on your router model.
Step 6: Test the New Password
Finally, you need to check if the new password works.
Disconnect from your Wi-Fi network on your device.
Reconnect to your Wi-Fi and enter the new password.
Congratulations! You've successfully changed your PTCL router's Wi-Fi password.
Please remember to secure your new password; anyone accessing it can change your Wi-Fi settings. If you experience any issues or the router's IP address doesn't work, check the bottom or back of your router for details or contact PTCL support for further assistance. For additional guidance on securing your Piso Wifi network, consider following the best practices for Piso Wifi Users.
Why Wi-Fi Should Be Password Protected?
To protect your network, activities, and device, you should always keep your device password-protected to protect it from unauthorized access and malware. If your wifi is not encrypted, then your network can be accessed by other people around you and within the range where the wifi signal is available. Hackers can access the data of the connected devices easily. They can change your essential files, check your online transaction and payment details login, etc., so you must be conscious about your Wi-Fi security.
Frequently Asked Questions
What should I do if I forget my new Wi-Fi password?
You can reset the Wi-Fi password and enter the default password mentioned in the Wi-Fi device's box or the back of the Wi-Fi device. Further, you can change the password by following the above steps!
What is the default IP address, username, and password for PTCL routers?
The default IP address for PTCL routers is usually "192.168.10.1" or "192.168.1.1". The default username will be "admin" unless they've been changed.
How Long PTCL Wi-Fi Password Should Be?
Keep your Wi-Fi network protected with a security code or password. The characters allowed for PTCL Wi-Fi are around 8 to 20 characters. Try to create a strong password for your wifi.
How often Should I Change My Wi-Fi Password?
Keep your Wi-Fi password updated every 2 to 3 months to keep it safe and secure and your device safe from malware and unauthorized access.
Wrapping up:
The people of Pakistan widely use PTCL broadband and internet services. This post will help you secure your PTCL Wi-Fi device with a password so that it will be away from unauthorized access and your network will be safe. By protecting your device, your data and files will also be secure. I hope this guide will be helpful to you. Thanks for visiting.